Step Right Up! An ice cream carnival and a sweet summer dream has opened in NYC. And there is no better way to beat this intense summer heat. Welcome to Oddfellows Ice cream Carnival, now open.
An Ice Cream Carnival in NYC 
A carnival of ice cream? Sign us up please! The latest Chefs Club Counter iteration is none other then OddFellows Ice Cream Co. Carnival installation!  Step right up to the counter for offbeat flavors (which OddFellows is known for) including a cotton candy creamsicle (vanilla and tangerine ice cream wrapped in orange cotton candy) and caramel popcorn soft serve topped with salted caramel popcorn and chocolate pearls.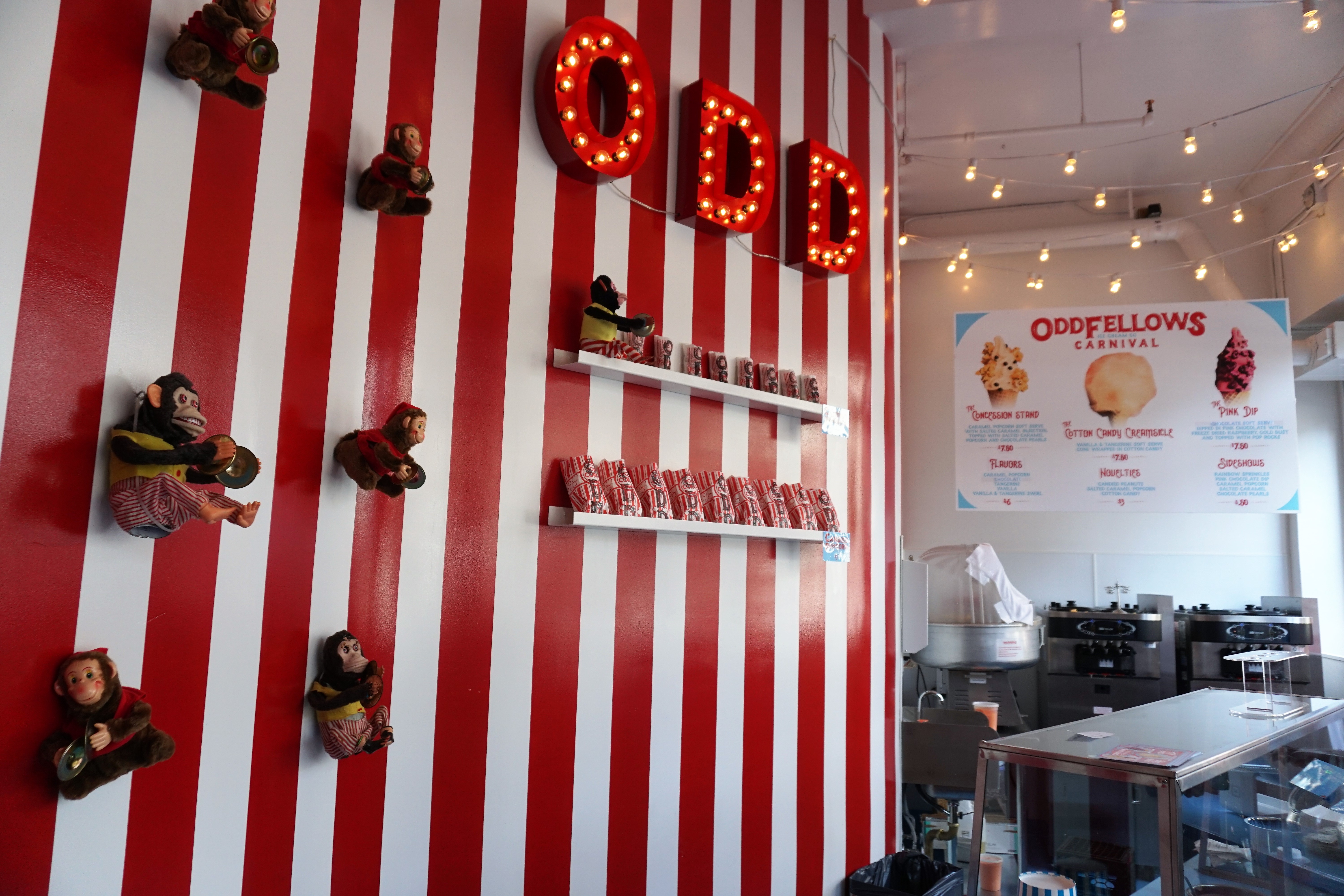 Inside the Oddfellows Ice Cream Carnival Pop-up
Behind the Cream
This pop-up is the third location of famed pastry chef Sam Mason. There is also a location in the East Village as well as Williamsburg, which is the flagship, and where all the ice cream is made in-house using Battenkill milk and cream. Since opening in 2013, more than 100 flavors have been created by Mason including Buttermilk Blueberry Honey, Chorizo Caramel Swirl, PB&J and Toast as well as many, many more. In addition to Mason's "greatest hits" he has also invented flavors such as Tobacco Leaf Smoked Huckleberry and Celery. Mason is up for just about anything when it comes to experimenting – except Coconut Curry, the one flavor he has put on his do not serve list.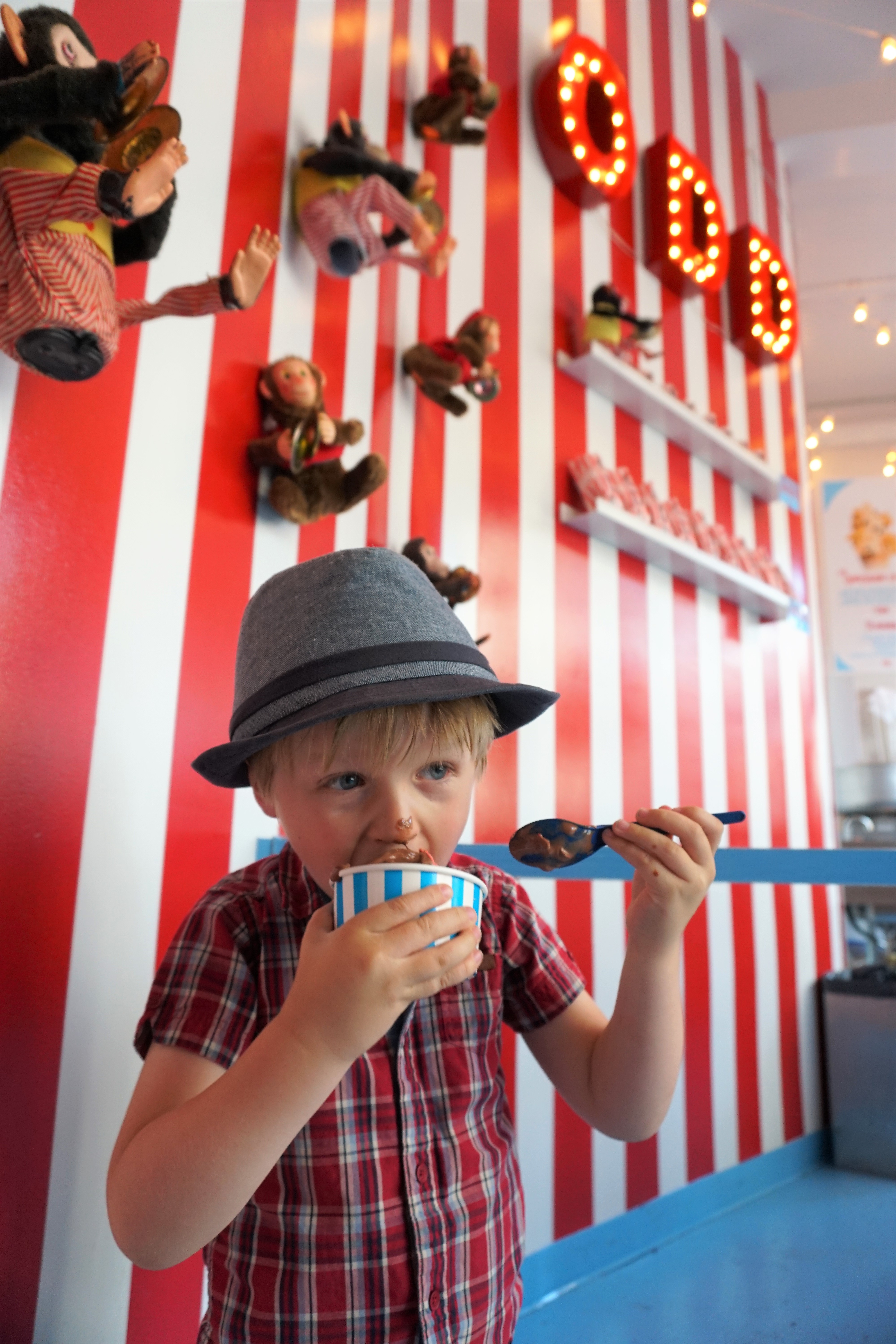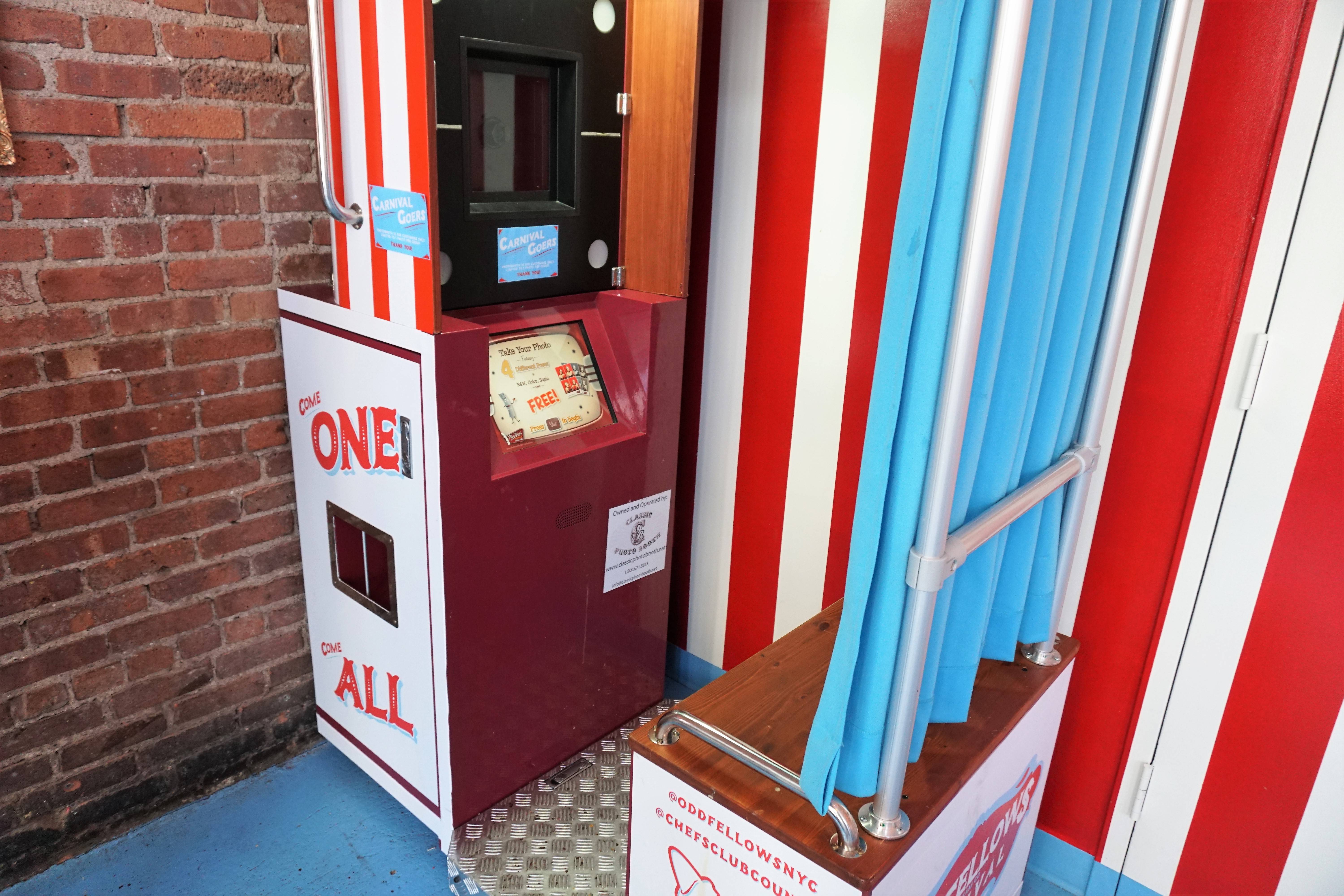 Free photo booth at the Oddfellows Ice Cream Carnival!
What to Expect:
Aside from the amazing carnival flavor concoctions, visitors will love the space that is decorated like an old-fashioned circus. The red-and-white striped space features a (free!) old-school photo booth, light bulb signage, and vintage cymbal-clapping toy monkeys (that actually work and completely entertained our son!).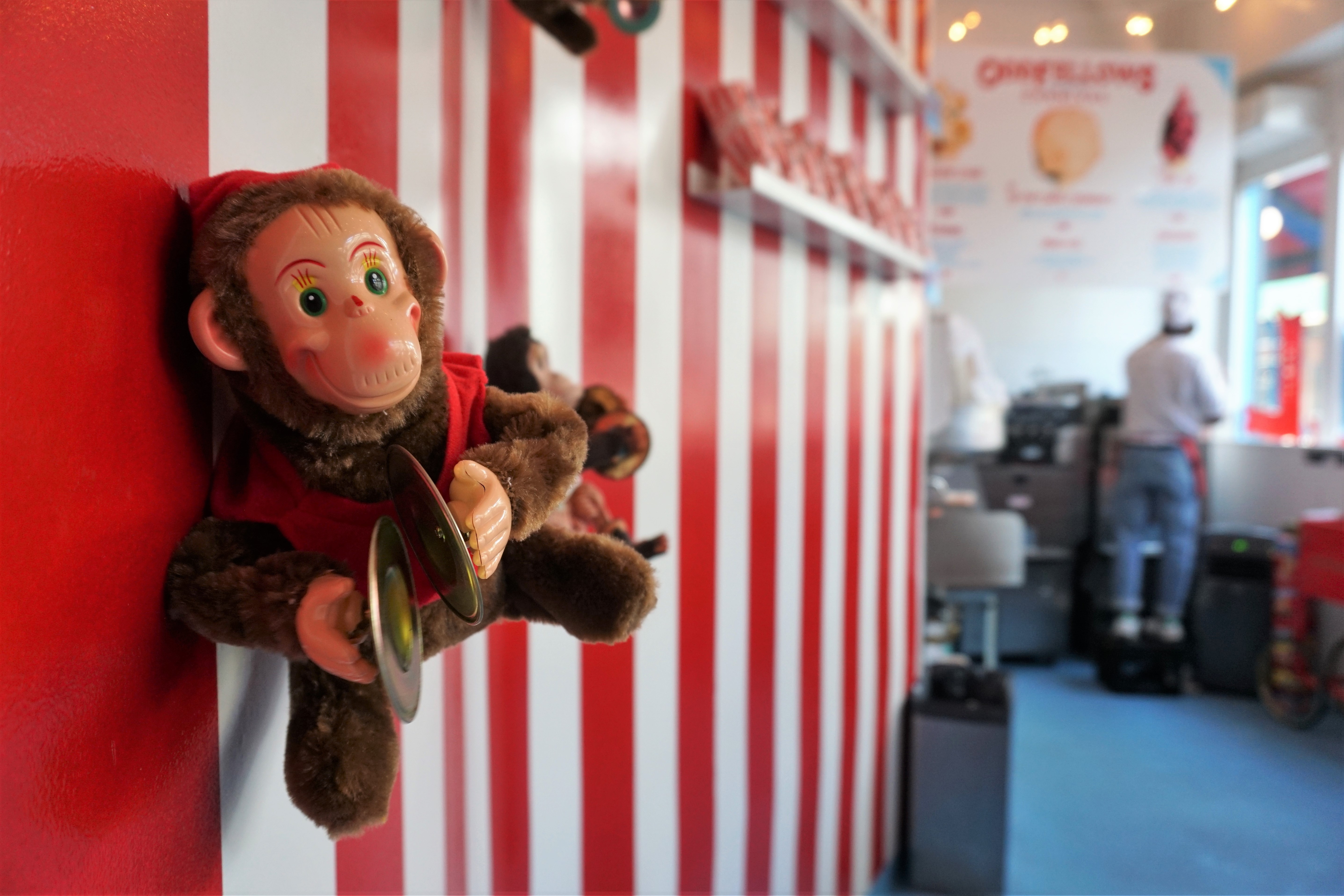 Monkey Business at the Oddfellows Ice Cream Carnival
While it may not be he greatest show on earth, this is one pop up that's worth a (delicious!) visit. But hurry! Just like real carnival, The Oddfellows Ice Cream Carnival is temporary (and only in town through the summer!).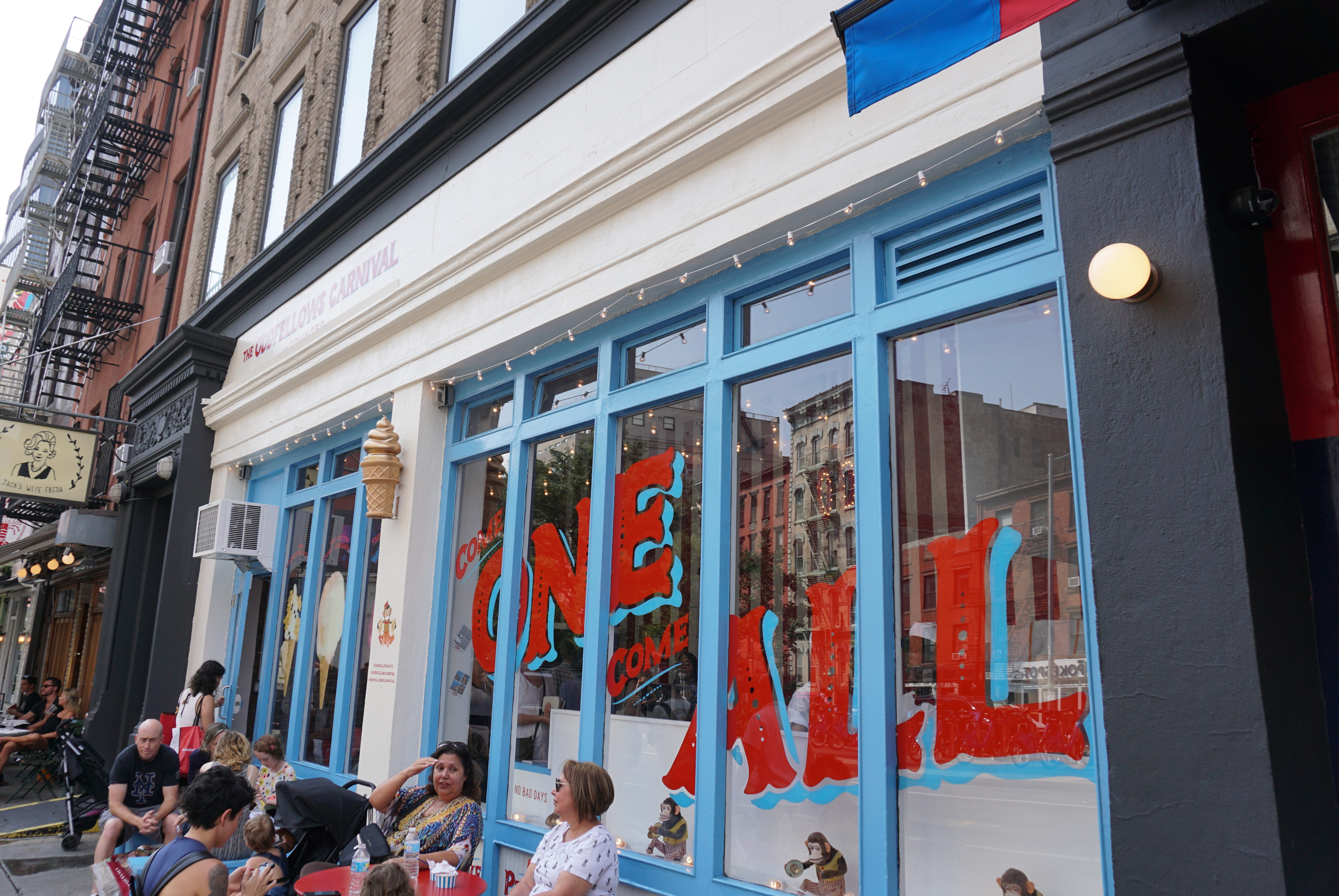 Come one, come all! Oddfellows Ice Cream Carnival
Oddfellows Ice Cream Carnival. 62 Spring Street.The circus came to town June 21 and runs through the Summer.  Website HERE.
Related